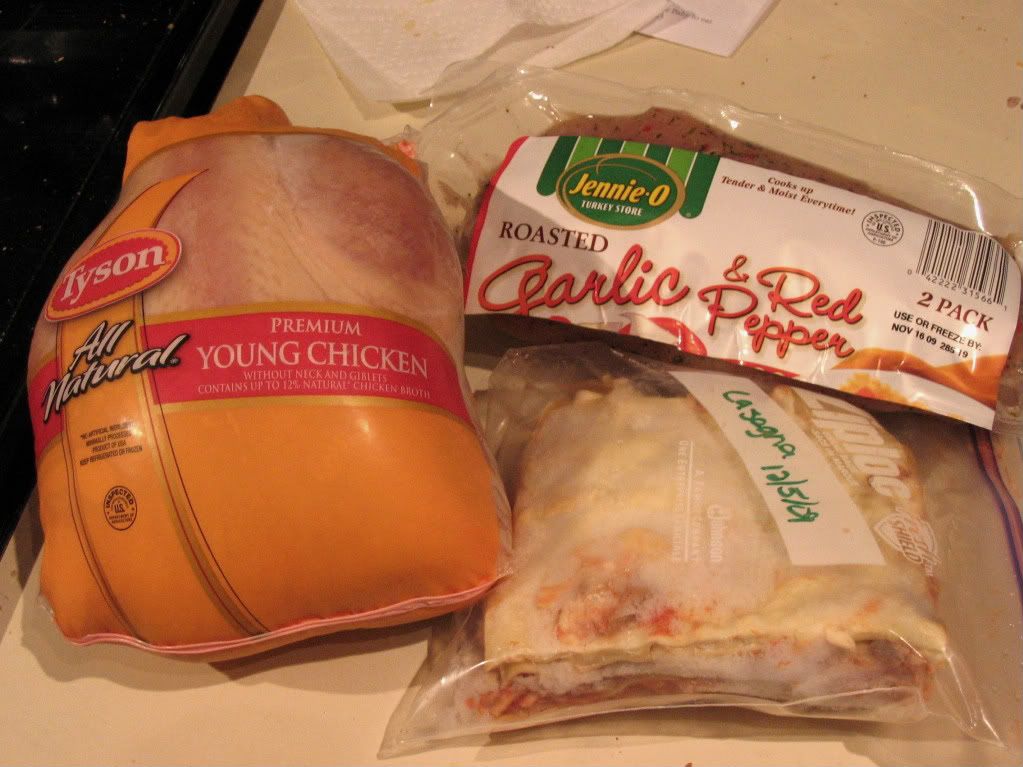 Here is our planned meals for the week. If you missed it, here was the breakdown:
Monday
- Lasagna and bread
Tuesday
- Turkey tenderloin and canned corn
(The turkey tenderloin is so big that once if bake it all, I should be able to stick half of it back in thee freezer for later in the month.)
Wednesday
- Leftover turkey tenderloin with another canned vegetable
Thursday
- Shredded BBQ chicken sandwiches (using the crock pot) with rice
Friday
- Chicken thighs (and legs) with artichoke hearts in italian dressing--
CHANGED
Saturday Dinner
- Pasta
Sunday
- Frozen pizza
It's only Tuesday and I already have to make changes to this list. Brian was able to eat the lasagna last night, but since I was doing stuff with Sam, I ate 2 hard boiled eggs (the whites only) and an apple for dinner. I should have brought it for lunch today, but I will eat it tonight, so I will be one day behind Brian for part of this week. I know that Brian does not like to bring meat leftovers to work for lunch, so it won't take me long to catch up.
I'm going to start the tenderloin right when I get home tonight and it should be done when I put Sam to bed and when Brian gets home. We will still have that as leftovers tomorrow.
I'm going to add an onion and a few spices (Italian seasoning, cayenne pepper, salt, pepper, a few garlic cloves) to the chicken tonight to save time. I'll turn on the crock pot with the chicken tomorrow morning. It should be done when I get home. After Sam goes to bed, I'll shred some of it and add the BBQ sauce for dinner on Thursday and lunch on Friday.
Knowing our family, I may have more changes to this tomorrow.