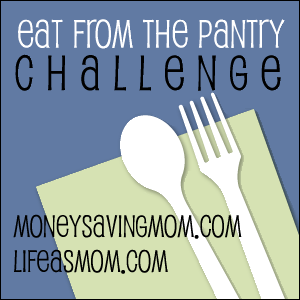 It's only February 2nd, but I was forced to take our first trip to the grocery store. Sam is almost out of food.
If you haven't read the comments that were listed under the intial post, I made a few stipulations to this challenge.
1. This challenge does not include prescription medications that we purchase at the grocery store.
2. This challenge will not include my son's food. I make all of his food from scratch and that can be expensive (fresh frutis & veggies). I will still keep a counter on what we spend on him, but it will not be part of the $100 maximum spending limit.
Of course, if after combining Sam's food with the household food, it comes out to under $100, that's good, too.
The total bill for my shopping trip this morning was $10.41 for 6 items. Here is the breakdown.
For Sam's Food
Gala Apples- $1.38
Bananas- $0.87
Anjou Pears- $1.51
Carrots- $1.29
Total- $5.05
Except for the bananas, each will be steamed and packaged.
The Challenge
Potatoes- $3.49
18 Eggs- $1.92
Total- $5.41
I know that the combined total adds up to $10.46, but we received a $0.05 deduction for bringing in my own bag.
Left in our Pantry Challenge Budget- $89.59.
I won't have to go to the store again this week.