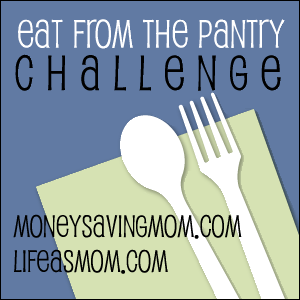 If you are unsure about what the Pantry Challenge is, please click HERE to find out where I got the idea.
After speaking with my husband in depth more about the Pantry Challenge, we have decided to start it this month. Actually for us it is more a "Freezer Challenge." I did not take stock of everything in our freezers, but I think that we might have enough to squeak by (especially since February is such a short month).
Based on the original "Pantry Challenge," we have altered the original goals to fit our family.
So here are our family's goals for the "Eat From The Pantry Challenge":

1) Stop at the store a maximum of three times in February.
2) Only buy dairy (milk, eggs, cheese, etc.), produce (fruits/vegetables), and breads (we eat too many sandwiches to not have fresh bread).
3) Spend a total of $100 or less on groceries during the month of February.
4) Donate the extra $85 leftover (or more) that we would usually spend on groceries to Sam's college fund.

We may have to suspend this challenge on February 13 if we decide to go out to dinner for Valentine's Day, but I will post about our progress then.
In thinking about this, the only things that we will have problems not buying are breakfast. Brian eats cereal every morning and I usually eat breakfast bars. [Right after we determined that we were going to do this challenge, Brian went to the grocery store yesterday (January 31st) and purchased several boxes of cereal. He made it under the wire.]
Breakfasts will be the toughest for me since I'm going to do everything that I can to not buy any breakfast bars. I know that we have waffles in the freezer and we have a couple of eggs in the house that I can cook up the night before and pack for breakfast the next morning.
To get ready for the challenge, last night I pulled some stuff out of our freezer for the week; an entire chicken, 2 servings of lasagna (my grandmother's recipe- yum!!), and a large turkey tenderloin.
Here is what I'm hoping to have for dinners this week:
Monday
- Lasagna and bread
Tuesday
- Turkey tenderloin and canned corn
(The turkey tenderloin is so big that once if bake it all, I should be able to stick half of it back in thee freezer for later in the month.)
Wednesday
- Leftover turkey tenderloin with another canned vegetable
Thursday
- Shredded BBQ chicken sandwiches (using the crock pot) with rice
Friday
- Chicken thighs and artichoke hearts in italian dressing
Saturday Dinner
- Pasta
Sunday
- Frozen pizza
Brian and I will try to eat as much leftovers for lunches so that nothing is wasted.
I hope that the lasagna is thawed for tonight's dinner or Brian and I get to each some of the cereal that he purchased.
Wish Us Luck!!!