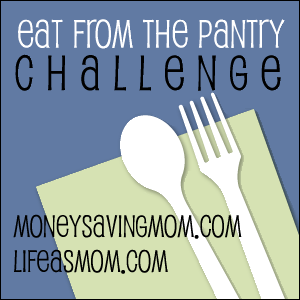 I already have to adjust my menu for this week. I didn't know that I have 3 full split breasts in the fridge, so the chicken will last a while.
Altered Dinner Menu- WEEK 2:
Monday
- Chicken and mashed potatoes
Tuesday
- Chicken pasta
Wednesday
- Rigatoni with Cheese and Italian Venison Sausage
Thursday
- Ham (Sam needs to try it)
Friday
- Ham leftovers
Saturday
- V-Day Dinner out with Brian and Sam (early dinner since Sam's bedtime is 7pm).
Sunday
- Not sure (maybe pizza again)
I will make the Pasta with cooked eggplant tonight and take for lunches tomorrow and Thursday.
Since the shredded chicken is still frozen from last week, nothing will be wasted. I can still make the following dishes next week.
• Shredded BBQ chicken sandwiches
• Shredded chicken tacos