I didn't sleep very well on Tuesday night, especially when the monitor made a bunch of noises in the middle of the night (that had nothing to do with Sam), but I have survived on less sleep than this.
Wednesday morning went really well. I woke up before Sam and had time to put on my makeup and fix my hair. Sam started waking up about 5 minutes after I was done. His diaper was dry, but I thought that he would like a fresh one to start off the morning.
Sam fed very well and we had some time to play before I had to get him to daycare. The only bad thing about the morning is the shirt that I had picked out the night before had some oil stains that I didn't know about until I was almost to work. I tried to stay in my office as much as possible so that people didn't think I was as messy as I really am.
All day yesterday I was most worried about giving Sam a bath. Brian and I bathe him together on Wednesday and Sunday evenings. He soaps up Sam and I rinse him off one set of body parts at a time (face, chest, arms, back, legs, junk, bottom and then his hair). After we pull Sam out of the tub and put him in a towel on the changing table, Brian massages Sam with lotion while I dry his hair and brush it.
We have The First Year's Infant To Toddler Tub (below) so I know that he won't be sliding all over the place, but Sam likes to kick and I'm not sure how much water is going to be in the tub once I'm done with his bath and how much is going to be on me and on the floor and counter.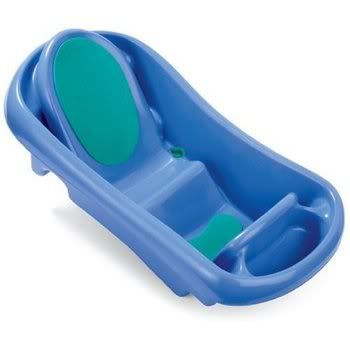 At 6:20, after he woke up, Sam ate his peaches and rice cereal voraciously.
7:15pm-- Sam and I survived bath time. I decided to do it a little differently than Brian and I do it together. I soaped and rinsed his face, then soaped up everything above the waist (minus his hair) then rinsed him off. Then I washed his legs, junk and bottom then rinsed him off. I then washed and rinsed his hair. I massaged him with lotion and brushed his hair. Everything went very well.
I fed Sam and then I put him to bed. He fell asleep pretty easily. I waited about 45 minutes before I took a shower.
I'll write about how I slept in my next post.